Both submissions to rebuild the last portion of LeBreton Flats include sport arenas, and I expect  both will include a new central library. This is both for marketing purposes, ie broadening the appeal of the project to cover both stereotypical biases about  "jocks" and "intellectuals", and also because a civic contribution to redeveloping the Flats is good planning.
In a new, central urban redevelopment scheme, it makes sense to have a variety of uses built in from the beginning … work, live, eat, play … sort of thing. Lansdowne Park comes to mind. Despite much initial (and some ongoing …) opposition, a survey in the Glebe Report in December shows considerable acceptance by Glebites of that project. Would it be a better place if the library branch was in there, maybe in the Horticultural building? The Lansdowne redevelopment is proving to be a useful  waypost towards a better LeBreton (and with the same developer bidding…).
We know one proponent, Trinity/Sens, will propose a library for its LeBreton project and for its immediately adjacent Bayview Station project. We know the City has also suggested the site it owns on Albert Street, where the sheds and construction stuff now is for digging the transit tunnel:
The City parcel of land is between Commissioner – Albert – Brickhill – Old Wellington, basically the block to the left of the #42 on the map. That site is plenty big enough for a library and other buildings, or a combined civic library and national archives.
A building there could be directly connected, indoors, to the new Pimisi LRT Station. There is room for an iconic building too, with a large triangular parkette just south of it for people to pause and gawk as they come from the current business district: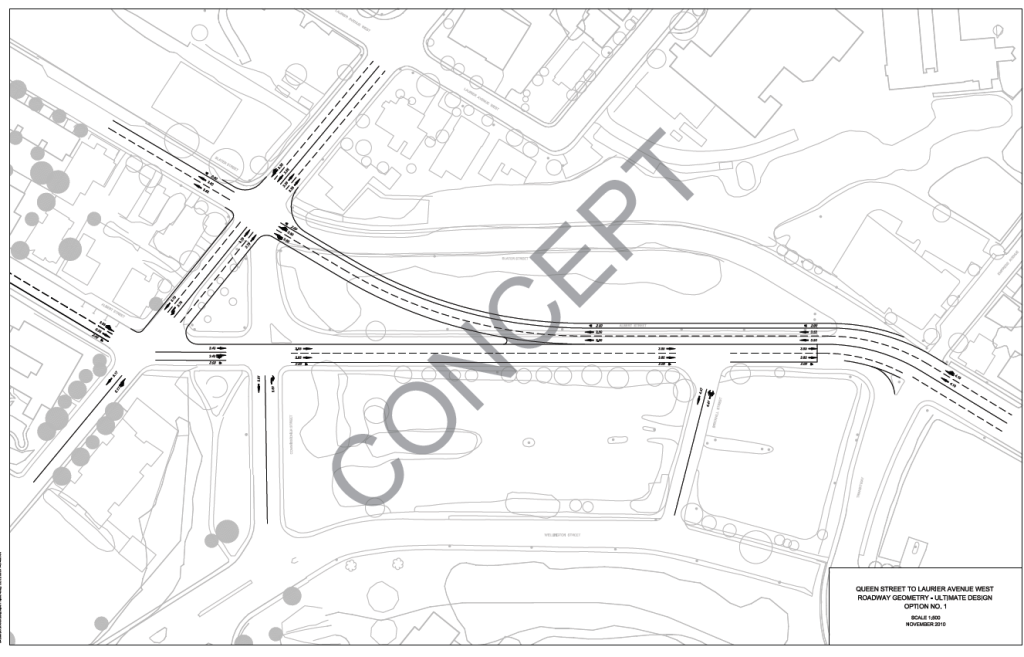 (above drawing is one of several concepts for redoing the Bronson-Albert-Slater intersection; "old" Slater is the shown under the P of CONCEPT; Albert and Slater Streets are combined starting at Good Companions on the right, as far as the new ped / cyclist crossing recently installed midblock at the N of CONCEPT; the library could be at the block marked CON which is currently the construction site for the tunnel; the triangular parkette space is actually quite large and is slightly higher than the library site, which would offer good views of an iconic building and would be a fine artwork focal node)
And a building on the  city's site would offer  fine views of the Ottawa River, the view below being from the 8th floor  Bridgehead:
Or the building could go elsewhere on the Flats, there is plenty of choice space … I think it is essential to have a direct (indoor)   connection to (rather than just "near to")  the Pimisi or Bayview Stations  to enhance city-wide accessibility.
There is already a lobby group for an "iconic" tourist-attracting library building, but this is at odds of Watson's frugal mind – he wants another user in that building to pay for it, ie condos or offices above. Although a federal wallet would do just fine too.
I don't think anyone goes to a city just to see the library, but for someone already going somewhere any nifty new building attracts tourists (like me). Here's Seattle's downtown library:
and alas, it has the dumbest floorplate imaginable where it needs a jackhamer to move a bookshelf and staff / users with the agility of mountain goats since floor elevations change constantly and stairs / ramps abound:
Montreal's new  municipal library and Quebec archives are also in a combined "trophy" building. I spent time there last summer figuring out how it worked …. Many of the grand spaces are taller than wide, like an upended shoebox:
and on the user floors themselves, I often felt crushed beneath very visually-heavy ceilings.
It is essentially a glass box — so glassy it lets in too much light, so translucent green glass louvres are required on the outside 
and where there are not outside louvres, enormous wood louvre walls were required inside to diffuse the light 
Mind, I still believe we can have good design, even great design, without the excess flourishes and leaky roofs of starchitecture:
So I definitely say yes to the possibility of a new central library on the Flats, for reasons of accessibility and place building and shifting the transportation focus to transit. What its design will be … is another matter I am much less confident of.
We are fortunate that we have a variety of acceptable site choices open for a new library in the central core.
Note to reader:  this is not a story about all the possible locations for a library, or the merits of putting it in the business district vs the byward market or king edward avenue or sandy hill. It is a story about LeBreton Flats, hopefully offering the reader some insight about fit and utility of a new central library there.